Our Farm, Our Story
Located on the East side of Wausau in central Wisconsin, Green's Flower Farm is growing fresh cut flowers in a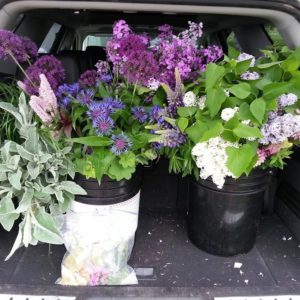 sustainable fashion. We pride ourselves in the flowers we grow and what we deliver. From Asters to Zinnias, Green's Flower Farm has the flowers that will bring all around joy and smiles to everyone. Our goal is to provide you a superior customer experience and tremendous value by providing the freshest flowers possible grown right here in Wisconsin.
About me….
Although my desire to play in the dirt started a young age.  I, Sylvia Green, have over 17 years of professional experience in green (horticulture) industry including floral designer of 5 years. I didn't always LOVE pulling weeds in the gardens and attending to our small farm animals, but I now look back and appreciate growing up on a game farm out in the country. Because of this, I was able to experience and learn things most kids nowadays don't always get the chance to. I enjoyed gardening and was able to showcase what I grew and the animals I raised during my 13 years of involvement in our local 4H club. I take pride in what I do and am pleased to offer you the things I am now growing and designing with today.
How we started this flower journey….
On June 6th, 2014, my future husband and I walked through our yard, pruners in hand to pick the flowers we wanted for our wedding. As we cut, striped and put stems in the buckets, I realized how blessed we were to have this opportunity. Not only were we getting the freshest flowers possible for our special day, but we shared this magical experience together. How many brides can say they hand chose each stem that went into their bouquets? From that day forward, I married my best friend and dreamed of being able to offer the same experience to other couples. Now almost two years later, Green's Flower Farm, LLC was created and will be offering the same great experience we had.
We love our customers and different things we are able to do for and offer them. We welcome your questions and feedback so please use our Contact Us page to tell us what you're looking for or how we can help you with your next floral needs.