Thank you for considering a floral subscription from Green's Flower Farm! Our flowers are cut fresh daily and sustainably grown right here in central Wisconsin. They are breathtakingly beautiful and the scents are pretty amazing too. A flower subscription is great to enjoy for yourself, your office or to gift to a special friend or family member. Subscriptions run from May through mid-October. We deliver within a 20 mile radius of Wausau.  Out of this area, give us a call to see if something can be worked out.
We offer two types of subscriptions: bouquet and bucket.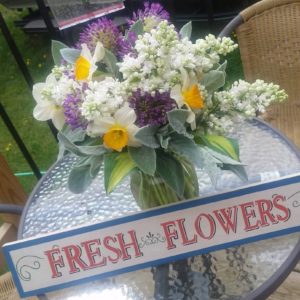 The bouquet subscription consists of one custom designed bouquet designed by Sylvia Green and delivered to your location. Members simply fill a vase of their choice at home with fresh water, snip the ends of the flower stems, and place the bouquet in the vase for a beautiful addition to their home or office. Alternatively, we can deliver the flowers in one of our stock glassware and will swap out the container each week for no additional charge.
The bucket subscription is a special treat for the flower lover who enjoys creating his or her own arrangements. Each month, members receive a 6 quart bucket stuffed full of loose stems of several in season varieties of flowers and foliage; they're perfect for making several, small bouquets to scatter around the house or one large piece for a special occasion.
Choose from: 4 or 6 weeks, designed bouquets or DIY buckets
Designed Monthly (4 weeks) Flower Subscription:  $160 ($40 per bouquet)
Designed Monthly (6 weeks) Flower Subscription:  $222 ($37 per bouquet)
Bucket Monthly (4 weeks) Flower Subscription:  $160 ($40 per bucket)
Bucket Monthly (6 weeks) Flower Subscription:  $222 ($37 per bucket)
Other options available by special request.
Again, these will be delivered to your home or office once a month.  We're flexible and hope you are too! This way, if you are traveling and out of town the week we've set for delivery, no worries… simply contact us to coordinate picking up your flowers from the farm.
To secure your flower subscription, please contact us today and send a check made out to Green's Flower Farm for your desired subscription. You may pay in full now, or put half down and pay the other half on the first day of pick up or delivery.
Thank you for supporting your small farmer and the local flower movement!